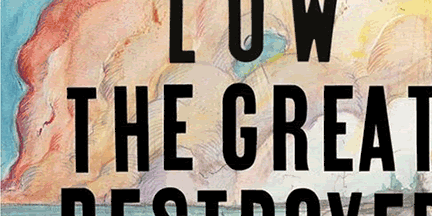 "Monkey"
from the album The Great Destroyer
2005
[iTunes]
Download a free MP3 of "Monkey" from Insound.com [right-click/save-as]
Watch the video for "Low" for free at the Star Tribune website.
Low's all time high
by Chris Riemenschneider, Star Tribune
February 6, 2005
Sitting at the dining-room table in their quaint 1920s-era house on a hill above downtown, Alan Sparhawk holds a vinyl copy of Low's bold new album while Mimi Parker cradles their 7-month-old son, Cyrus. One is surprisingly calm and happy. The other is anything but.
Cyrus' tranquility also contrasts with his ceaselessly colorful sister, Hollis Mae, who says she's "almost a whole hand" in age. Hollis' candid critique of another band's song — after her dad described it as "cool" — provided the slogan on Alan's T-shirt in a music-video shoot a few days earlier.
"I don't like cool, I like beautiful," it read.
Cool and beautiful are a good way of describing The Great Destroyer, Low's eighth and most ambitious album. It was produced by David Fridmann, who has done innovative work with bands such as the Flaming Lips and Mercury Rev. That's the cool part, as is the fact that the CD is being issued on Seattle's renowned Sub Pop Records.
The deal with Sub Pop (see: Nirvana, 1989) helps underline Low's dramatic change in sound, from the sleepy, minimalist sound of its previous albums to a loud, aggressive, high-energy style that's almost symphonic.
This sonic face-lift is only half of what's beautiful about the album. The other beauty comes from the obvious soul-searching involved in the songs.
In more ways than one, Destroyer actually saved the band, which formed in Duluth in 1994.
"Sometimes you make yourself think you're at a crossroads, and we definitely thought we were," Sparhawk explained. "We really had no idea what we were going to do next."
That was before Radiohead hand-picked Low for a European tour in the summer of 2003, which helped set this sonic turnaround in motion. Not only did the band "amp-up" its quiet sound to play in front of 20,000-some fans each night, it simply got a nice bout of encouragement from those shows.
"It was a real uplift for us, perfectly timed," Sparhawk said. "We had been touring a lot, playing in a lot of the same clubs we'd been playing in for the past 10 years. We were worn out and tired."
Throw in the kids and mortgage and 30-something birthday candles alongside the touring, and it's not too dramatic to say Low was at a midlife crisis.
"We'd been going at it relatively nonstop for 10 years," bassist Zak Sally said a week later at his house in Minneapolis.
Though newly married (his wife, Annie, will be Low's nanny on tour), Sally, 32, is a few years younger than his bandmates and doesn't have kids. Still, he, too, was "questioning the band's existence," he said.
Part of the dilemma was the music. Parker's brand of sluggish, brush-hit drum rhythms and Sparhawk's soft electric-guitar chords — branded "slowcore" early on by critics — had become a trademark they couldn't shake. They started to pull away from the sound on their powerful 2001 album, Things We Lost in the Fire, but critics continued to insert that word into reviews.
"I don't even know what slowcore means," Sally said with a laugh.
"In the early days, it was incredibly tense and interesting playing so minimalistically. It really was something innovative and exciting, I thought. But eventually we started moving away from that toward simply challenging ourselves to be as good a band as possible."
The Great Destroyer even seems to start out like a challenge.
"Tonight the monkey dies," Sparhawk and Parker sing forebodingly over flared-up guitars and tribal rhythms on the album's opening song. While he's elusive about other songs' subject matter, Sparhawk makes no bones about "Monkey."
"There were things this band had to get out from under, like a monkey on the back," he said.
"Monkey" is the primer for the rest of the CD, which goes from the sad, downpour pop of "California" to the frantic, frayed rock of "Everybody's Song," and from the coolly pulsating flavor of "Just Stand Back" to the stormy guitar flare-ups in "On the Edge Of." Even the one track that sounds like traditional Low, the elegant "When I Go Deaf," turns into an explosive meltdown in its final minute.
Sparhawk is quick to insist that these sonic leaps were not preconceived or reactionary. The singer-guitarist, who usually does the initial work on songs before turning them into a group effort, started showing his affinity for louder guitar rock a few years ago with his blues-punk side band, the Black Eyed Snakes. Sally, too, often gets his rocks off playing with local group Kid Dakota.
Even Parker — who's typically stoic and pacific compared with her bandmates — got drawn into the louder, stormier sound.
"It never felt forced, or anything but natural," she said. "We'd be working on the songs and sort of looking at each other like, 'Where did that come from?' "
Jonathan Poneman understood the difference right away when he heard the new CD.
A cofounder of Sub Pop Records, Poneman said he has been a fan of Low's since the mid-'90s, when the band was often compared to a group that he signed, Codeine.
"I liked bands like that because they were the alternative to what was then called alternative rock," Poneman said. "But to me, Low has gone on and proven themselves to be a timeless act. I thought that before this album, and I still managed to be blown away by it."
Poneman said he believes that Low's past few albums have sold "remarkably well" on the small, Chicago-based indie label Kranky and through a European deal with Rough Trade Records (which is still in place). He said, "I think we can push them a little farther."
Sub Pop's involvement already helped land two raves for the album in Rolling Stone and Spin magazines. It also helped pay for a pair of music videos and maybe a few more (Sparhawk wants one for every song).
During one of the video shoots, at a soundstage in Bloomington, the band used the time between filming to go over a grab bag of details with its newly hired manager, Vickie Gilmer, who also handles Mason Jennings and Heiruspecs (and was a Star Tribune writer). Remarkably, Low went its first 10 years without any kind of manager.
"One thing having kids does is it forces you to become more organized," said Sparhawk, whose children were on hand for the shoot and usually travel with mom and dad. "Gone are the days when we'd just finish a show and say, 'Well, whose floor are we sleeping on?'"
Still, Sparhawk and Parker said, children haven't changed their lifestyle dramatically.
Both raised near a small town in northwestern Minnesota, Clearbrook, the couple has never led a decadent rock life. They are Mormons — a fact that usually draws a gasp when mentioned in a punk bar — and they have always avoided performing on Sundays, as well as consuming alcohol and drugs. Like other well-known indie-rock couples (Sonic Youth, Yo La Tengo), they stay well-grounded and all-out normal despite the weirdness of their band.
Parker said she doesn't worry about taking the kids out on the road. Hollis, who won't start kindergarten until next fall, has even turned into something of a
roadhound.
"She likes it out there," Parker said. "Everybody pays attention to her, and there's always stuff to keep her occupied."
Low's odd man out, Sally, actually sees the addition of children to the tour van as a positive.
"It's obviously more work for Alan and Mim than it is for me, so I kind of just get to enjoy the kids," he said. Actually, Hollis and Cyrus might have helped Low get past its crossroads/crisis, he said.
"Having kids around sort of just makes you realize how unimportant a lot of this rock stuff is. A lot of things that seemed life-and-death before are now just stuff we shrug off."
In fact, the band seems to be shrugging off all the hype surrounding The Great Destroyer.
"We're not a band waiting around for that big breakthrough," Sparhawk said. "It'd be funny if it happened now. It would sort of be like Soul Asylum, where after 13 years of nonstop touring and being almost ready to call it a day, the big hit happens."
Back home now, he had just opened a check from BMI, the music publishing company that collects money anytime a Low song is used on TV.
The group's 1999 Christmas album — hastily made on a whim — is its big breadwinner, getting used in ads for the Gap and on the recent "The O.C." holiday CD. The latest check had payouts ranging from a good chunk from the movie "The Mothman Prophecies" (which hit cable) to 2 cents for a bite on MTV's "The Real World."
Low has tour dates all over the United States and Europe lined up this year, but the members also have plenty else going on.
In addition to the Black Eyed Snakes, which just finished a third album, Sparhawk is involved with his own record label, Chairkickers Union, which has released albums by Minnesota buzz acts such as Kid Dakota and Haley Bonar. Sally is starting a publishing company for comic-book-type artists, with its first book coming soon by 'zine favorite John Porcellino.
As he handed Cyrus a handful of Cheerios, half of which wound up on the floor, Sparhawk sounded extra-content.
"I feel like we accomplished a lot with this record," he said. "We found a new direction and a new motivation to inspire us as a band. If people react positively to it, great, but I'm genuinely satisfied with what we did."
Over the next half-hour, the couple's home phone and Sparhawk's cell phone each rang a half-dozen times, usually on some business relating to the new album.
As Sparhawk took a call, Parker rolled her eyes.
"Here we go," she said.
Low