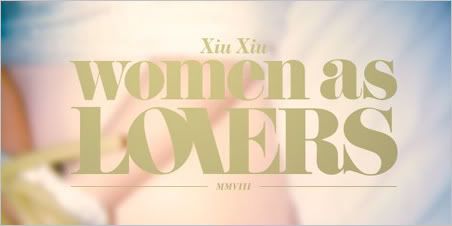 "I Do What I Want, When I Want"
from the album Women As Lovers
2008
iTunes
On Women As Lovers, Xiu Xiu's sixth album, Jamie Stewart paraphrases the Smiths' "I Know It's Over" and has Angels of Light's Michael Gira join him on a cover of Queen and David Bowie's "Under Pressure." As a list of influences, it adds up: Xiu Xiu has always trucked in darkness, denseness, and theatricality. But rather than using art as a cloak, Stewart constructs an exoskeleton out of precious wordplay and florid arrangements — armor that makes him as clumsy as it does strong. On "Guantanamo Canto," Stewart's messy majesty spurts out in unpardonably bad lines like "Red, white, and blue, choking on peace / Your suicide is politics, nay misery." The tension between the lyrics' real-world horror and the music's haunted, loping discordance is a little like torture itself. Thankfully, "Canto" is the only blatantly topical track on the album; Stewart's habitat is the fantastic, and the rest of Women pillages his native domains of sex and disgust, leaving shreds of song dangling by threads of skin.
~ Jason Heller, The A.V. Club