Wednesday, July 27, 2011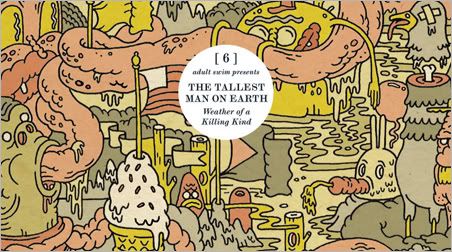 "Weather of a Killing Kind"
from the single Weather of a Killing Kind
2011
iTunes
BY MAX SIMON | Jonk Music
Kristian Matsson is a solo artist with tremendous talent hailing from Dalarna, Sweden. The man behind The Tallest Man on Earth is not only a genius with the pen, but also masters the guitar, banjo, and piano. Matsson has two full albums, two EPs, and multiple singles – each displaying his folk, rustic sound from various angles. "Weather of a Killing Kind" is a new song that can be downloaded for free on Adult Swim's 2011 Singles Program.
With a psyche so in sync with flora and fauna, a voice so similar to Bob Dylan's, and an aching passion so raw and pure, Kristian Matsson creates a world of his own in "Weather of a Killing Kind." In this song, the Tallest Man on Earth towers the rest with his unmistakable talent, yet becomes grounded in the midst of rain. An irony indeed, but this song is no joke. Feel the rhythm, feel the rhyme, and Matsson will surely hit you deep.
Adult Swim's Singles Program is a new feature for Adult Swim, providing music-lovers with a strong variety of never-before-released tracks (like "Weather of a Killing Kind") to listen and download for free each week. Tracks by artists such as Mastodon, The Rapture, Best Coast, Ford & Lopatin, How to Dress Well, Active Child, and more are being released from June 6 to August 2. Certainly a good mix of genres, certainly something worth checking out.
tagged
The Tallest Man on Earth
|
in
Max Simon