Thursday, February 16, 2012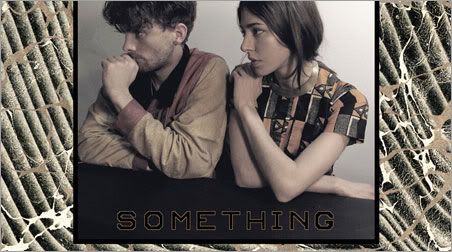 "I Belong in Your Arms" MP3
from the album Something
2012
iTunes
BY DAVID RUIZ | Jonk Music
Chairlift is leaner and more directed than the 2008 iteration that released Does You Inspire You. Without founding member Aaron Pfenning, Caroline Polachek and Patrick Wimberly are able to establish a new chemistry between them that has helped define their sound. Their semi-nostalgic aesthetic is mined from the uncool depths of '80s pop and Bush-era R&B. The retro attitude permeates from just about everywhere, but dedicated touches like the spoken echo in "Amanaemonesia" fill out their anachronistic vibes.
Something is clearly the product of a few conflicting forces. The song "Amanaemonesia" represents the more schizophrenic and cluttered side of Chairlift's sound. Polachek has taken to wearing a nylon catsuit in concert when inhabiting the manic character incorporated by the more worked up elements from Something. On the other end of the spectrum is "I Belong in Your Arms" — it is an unabashed love song inspired by the band's current relationships (not with each other) and the simple comfort of intimacy.
The ability to incorporate backwards-facing sonic qualities with Polachek's honest lyrics take their sound from gilded retro pop to emotionally deft expressions. The lyrics are simple and strong, Polachek set out trying to craft songs that a "10-year-old" would find captivating. That simple directive helps the band navigate the naked sentimentality in "I Belong in Your Arms," without becoming saccharine. The track's instrumental elements maintain the band's retro aesthetic, but more varied influences poke through as well: echoes of Björk float in through the ether as the track gently dissolves.
tagged
Chairlift
|
in
David Ruiz