Saturday, March 10, 2012
WEEKEND VIDEO

"The First Time I Ran Away"
from the album A Wasteland Companion
2012
iTunes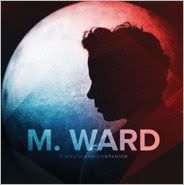 BY CHRIS KRAEMER | Jonk Music
Matt Ward creates music under numerous monikers. Possibly most known as "the guy who sings with that famous girl," Ward's journey toward solo recognition takes another step with his 2012 LP release. A Wasteland Companion will not be categorized under She & Him, the name of Ward's collaboration with actress Zooey Deschanel, nor will it be credited to Monsters of Folk, the supergroup to which he belongs. Instead the album will be filed under M. Ward; add a couple of side projects amidst dozens of appearances and his solo work is often left behind. Despite the three-year M. Ward album drought, releases under other aliases have kept the public content. Fans are sure to be reminded of Ward's natural songwriting ability and realize the void with just one track from the forthcoming LP.
"The First Time I Ran Away" is a complex story hidden beneath a child-like title and sound. Despite short, quiet verses culminating in backup vocals seemingly stolen from a lullaby, the lyrics paint an intricate picture fit for a full-length film. Apparently this was a common sentiment, as artist Joel Trussell directs the animated music video that accompanies the track. A beautiful interpretation of Ward's lyrics, the video harnesses all of the potential strength within the poetry while adding to the soft and simple allure of Matt's guitar. Like the prominent waterfall of the story, Ward's voice continually soothes without revealing its frightening underlying power. The impressive combination should command the attention of each of Matt Ward's many fan bases.
A Wasteland Companion, the seventh studio album by M. Ward, is expected April 10.
tagged
M. Ward
|
in
Chris Kraemer,
Videos