Monday, August 13, 2012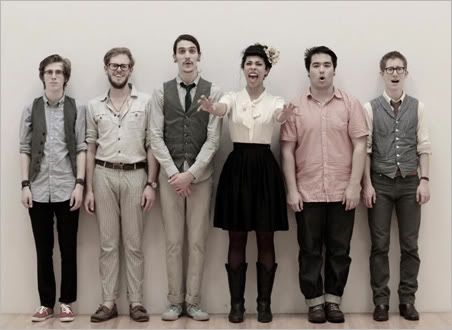 BY KATHRYN DOERS | Jonk Music
"You can try and hide away,
from all the things that people say,
that you need to be okay,
but you'll just stay the same."
— "Laura (Oh, Girl)" by PHOX
Hypnotic. Fascinating. Beautiful. Powerful. All are words that accurately describe rising band PHOX and their addictive music. This Friday, August 17, PHOX will perform at the Majestic Theatre's Live on King Street, opening for rock group Stephen Kellogg & the Sixers. Take this opportunity to enjoy some homegrown music from an up-and-coming indie band.
LISTEN:
PHOX
"Laura (Oh, Girl)"


Sometimes the best music is found locally, right under our noses, and such is the case with PHOX. Last year (officially anyway), six Baraboo natives came together to create the band PHOX and have been going strong ever since. The group includes vocalist Monica Martin, who awes listeners with her unique sound and vocal quality. The 23-year-old possesses a voice that is both mature in tone as well as ethereal in essence. The other five PHOX members are highly talented as well, but Martin manages to bring everything together through her vocals.
Even with one lonely album to call their own, PHOX is proving to be a force worth noting within the Madison independent music scene, so you will more than likely come to recognize their name in the near future. If you don't know their music already, you can get their first album Unblushing for free at their website. And for free, who can pass up a chance at great music? Arguably the most captivating aspect of this album, though, is the fact that all of Unblushing's five songs were recorded in one take. Included are lyric mistakes, sour notes, and the genuine emotion that follows such truth. It is astonishing that each song still sounds flawless. Such an interesting process is rare in a world where music is recorded over and over again and tweaked to their point of falsity. The parallel film showing this live recording session is available on the PHOX YouTube page.
When you decide that you like what you hear, prepare yourself for more. In the exact words of drummer Dave Roberts, PHOX will have "something bigger and better real real soon," as they are beginning pre-production for their second album. The sophomore set of songs will most likely feature fresh songs in addition to new versions of the Unblushing songs. Again, the album will be recorded live and filmed congruently and with little to no budget — in true PHOX style.
If you, for some obscene and unfathomable reason, miss this Friday's Live on King Street concert, you can also catch PHOX on September 5 at the High Noon Saloon. Or, you can see them on September 21 at the Majestic Theater with Pearl and the Beard and solo act Anna Vogelzang. Whichever you decide to attend, it is assured to be an enjoyable experience! Yeah, baby.
tagged
PHOX
|
in
Concert Preview,
Kathryn Doers